We are nothing without our supporters.
We thank our Insimbi rhino ambassadors for all that they do towards the conservation of the species.
January
Margaret George.

How are you involved with Rhino?
In 2018 I created a year long fundraising initiative called @MilesforRhino
which raised over $2,000 for nonprofit wildlife conservation organizations.
What inspired you to love rhino?
I aspire to become a Wildlife Conservation Analyst and Criminal Investigator here in the States and abroad.
I want to use my education, experiences, and background to create lasting change in wildlife conservation and anti-poaching
efforts.What would you do to stop rhino poaching?
Anything! From education, awareness, and fundraising to legislative change state-side and aboard, to a worldwide
cultural change on how people view the wildlife trade, poaching and the sale of illegal ivory.Do you think that education can help towards the conservation of the species?
Yes, education and awareness is key."One person can make a difference. When I started @MilesforRhino it was a simple personal challenge and overtime
it transformed into something amazing – a group of 11 people who were passionate about wildlife conservation and
rhino, who wanted to make a difference!"
Thank you Margaret for your efforts and dedication towards the conservation of the species!
March
Lize-Miri Collen.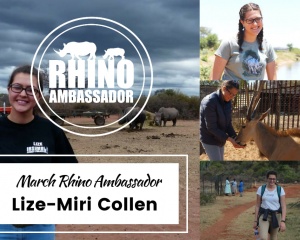 Lize-Miri is a true young rhino warrior and we believe that this makes her the perfect candidate for this months rhino ambassador.

Your Age?
17.
How are you involved with Rhino?
I did a school project and since that week I visited the Insimbi Legacy Projects whenever I got a chance.What inspired you to get involved with Insimbi Legacy Projects?
I never liked poachers and I never understood why they poached the animals so one day I just decided that from today on I'm going to do my best to make a difference. I decided no more poaching while I'm alive and I'll always try to prevent poaching.What would you do to stop rhino poaching?
I'll visit the farm and help patrol the farm fences.Who do you think is the target market for educational and awareness programs?
Young people, because they still have a whole future in front of them.
Thank you Lize-Miri for your efforts and dedication towards the conservation of the species!
April
Sharon jv Rensburg.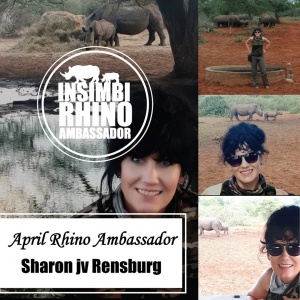 Sharon is the very definition of a Rhino Warrior!

Sharon and her family have been in the front line many of times and have personally been out in the bushveld protecting our precious rhino.We believe that Sharon is the perfect candidate for this months rhino ambassador.Thank you Sharon for all your dedication towards saving the species!
May
Anru Botes.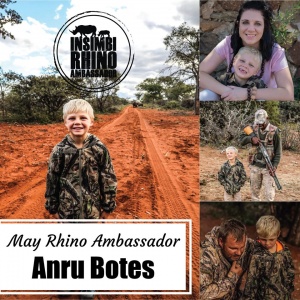 Anru and his family have personally helped towards saving rhino. Anru has joined us and had his boots on the red sand to watched over our rhino.
Anru's age?
7 years old.
How did Anru become involved in the conservation of rhino?
"Anru has his Facebook page (Anru's dream for rhinos /Anru se droom vir renosters) and a recycling project for the rhino.
What inspired Anru to love rhino?
"When Anru was smaller he loved dinosaurs and one day he saw a rhino and since then he is in love with them. Maybe a little obsessed 
🙂"
A very young and dedicated rhino warrior!
Thank you Anru, Angelique and the whole Botes family for all you do towards the protection and conservation of the species.
June
Christopher Nicholls.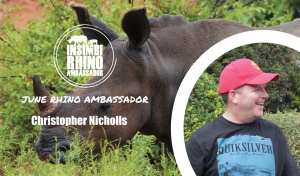 Christopher is a supporter of Insimbi and had helped us achieve one of our goals by contributing towards a drone that is used out the field to help locate and monitor our rhino. Thank you, Christopher, for your contatnt support and help towards the conservation of our rhino.
July
Emma Sinclair.
Emma is a very talented musician all the way from Australia! Emma will be helping assist Insimbi Legacy Projects by being hands-on and with her boots on the red African soil.

"Having seen every David Attenborough documentary in existence, my dream was always to see African animals with my own eyes. Singing allows me to travel this region, so I've taken any chance I could get to be in the bush! Rhino are magnificent animals that must be protected, and having been here for a few days and having seen the effort that goes into their safety, I want to help this fantastic organization in any way I can. "
Emma has a great project that she has in mind for Insimbi and we will be revealing this project throughout the month.
"I'm beyond excited to be apart of this, and just want to help in any way I can."
Thank you Emma for being apart of the Insimbi team! We are excited to see what this month will unfold!
August
Cobus J van Rensburg.
This is a man that had done and seen it all.
Cobus is a very dedicated rhino warrior and always helps us where he can wether it be spreading the word about Insimbi, patrolling day and night, watching over our rhino or coming up with new ways to help save these animals.
No matter what time of day, Cobus is always willing to come out and protect our rhino.
He has had many adventures with us and always eager to be on the front line.Thank you Cobus J van Rensburg!
We are blessed to have you and your family become part of our Insimbi family.
September
WK van der Merwe.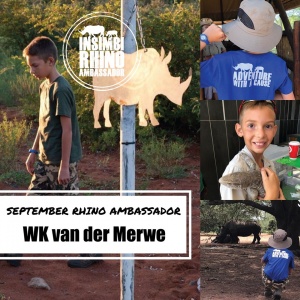 A youngster with a heart of gold!
WK is very committed to saving the species and always up to come and see our rhino. WK and his family joined us one weekend and he showed such interest and love towards our rhino.
He is a true rhino warrior!
Thank you to WK and family for being amazing people!
October
Michael Retief.
Michael has been with us for a long time now and is an incredible young man. He has helped us with many things but often assists us with our Adventure With A Cause weekend. Always ready to give a helping hand and go the extra mile. He has spent many days watching over our rhino with us.
Thank you, Michael, for your dedication and passion towards Insimbi Legacy Projects!
November
Lianie and Nicole Mostert.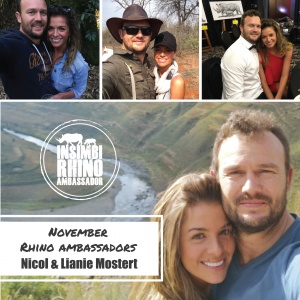 We usually only have one ambassador a month but this power couple is an exception.
Lianie and Nicole are exceptional people with hearts of gold.
Where you find Lianie, you will always find Nicol nearby or visa Versa.
They have helped us protect our rhino and are always a phone call away when we need extra boots on the ground.
Thank you for all that you do for Insimbi Legacy Projects
December
Ettienne Soekoe.

Where do we start? Ettienne and Sandy Soekoe have been with us through thick and thin.
We have decided to make Ettienne December rhino ambassador as an anniversary mark of the incredible race that he cycled for us last year December -The Nedbank Desert Dash. Ettienne cycled  369km in under 24 hours across the world's oldest desert in support of Insimbi Legacy Projects. Ettienne raised awareness and much-needed funds for rhino protection. Ettienne and Sandy Soekoe have been proud supporters of Insimbi Legacy Projects and have personally assisted on patrols to keep our Rhino safe.
Thank you Ettienne and Sandy for all that you do for Insimbi Legacy Projects.